Read this blog in:
Journey from Holy Ganga to the Rhône: The Hunt for Host-Pathogen Adhesins (ESR 5: Manisha Goyal)
Brief about my background…..
My name is Manisha Goyal and I come from a small city Saharanpur located in the northern part of India. I chose to graduate in Bioinformatics because I was fascinated by this newly emerging field. My keen interest in it helped me delve deeper into this subject when I did my master's in bioinformatics from Asia's largest women's university; Banasthali Vidyapith, India. I have done my master's dissertation from Jawaharlal Nehru University, India. It was there that I learnt how to design a drug to combat Alzheimer's and how to test its effectivity inside the human body by creating a virtual in vitro environment which is known as molecular dynamic simulation. During this period for the first time I was taught how to efficiently write and publish a research paper. This was just a beginning for my research carrier. My diligence and assiduous pursuit of the subject won me a fellowship at a bioinformatics project funded by the government of India. In those three years I learnt about Next Generation Sequencing (NGS) and data analysis. While preparing for my doctoral studies, I successfully published 9 research papers.
Time to move on to a different continent……
My reward was this EU-funded International Training Network project (ViBrANT) that brought me to the other side of globe. ViBrANT is an international research platform focusing on viral and bacterial adhesion factors to treat infectious diseases and to bring European socio-economic development. I am now working as a PhD student (Early Stage Researcher- 5) at bioMérieux in the Lyon region, France and getting fellowship from ViBrANT. Living in France can be quite challenging for a person coming from one of the most populous countries in the world. But my colleagues have helped me to create a new home away from home. It is their love and cooperation in professional as well as personal capacity that I value most.

To buffer this sudden change in my life, Rucha Datar (ESR-15 in ViBrANT), just like me facing the same situation, walked into my life. Here in France life has been a roller coaster ride from learning a new language to mastering left hand driving. I have gained a lot and now I feel quite sorted with the new work culture. Lately I have been exploring and travelling a lot, of trying new winds and stepping new stones. That is all about my pretty exciting life events.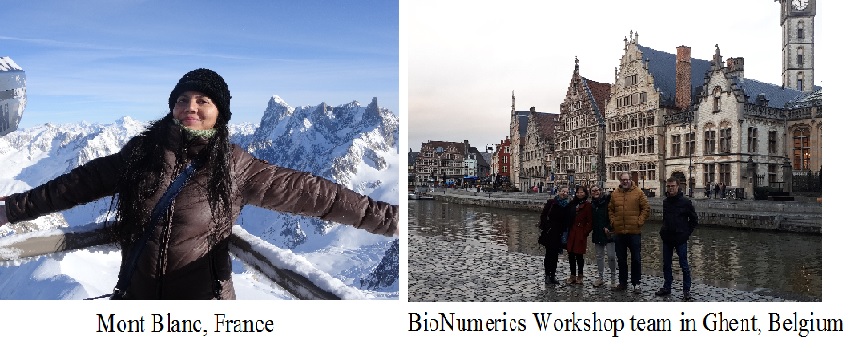 My PhD project……
Moving to my PhD work which is again based on bioinformatics data analysis. I am analyzing the genomic sequences of different bacterial strains and their adhesion factors which is the main theme of the ViBrANT project. The biggest advantage of sequence data analysis is to look deeper into the bacterial genomes and their gene expression levels simultaneously for many genes of interest such as genes related to adhesion. I have already finished my short term project on Staphylococcus  aureus nasal carriage. I have also attended a training in Belgium to improve my NGS skills and to learn to cope with exceptionally increasing technological advancements in the field of bioinformatics and microbiology. Things are moving fast, now I am focusing on my project.
I am sure life has more surprises and challenges stored for me. Looking forward to the world of wonders.
Thank you for reading my blog J.